Since 1917
Wallace Bishop
About us and our history.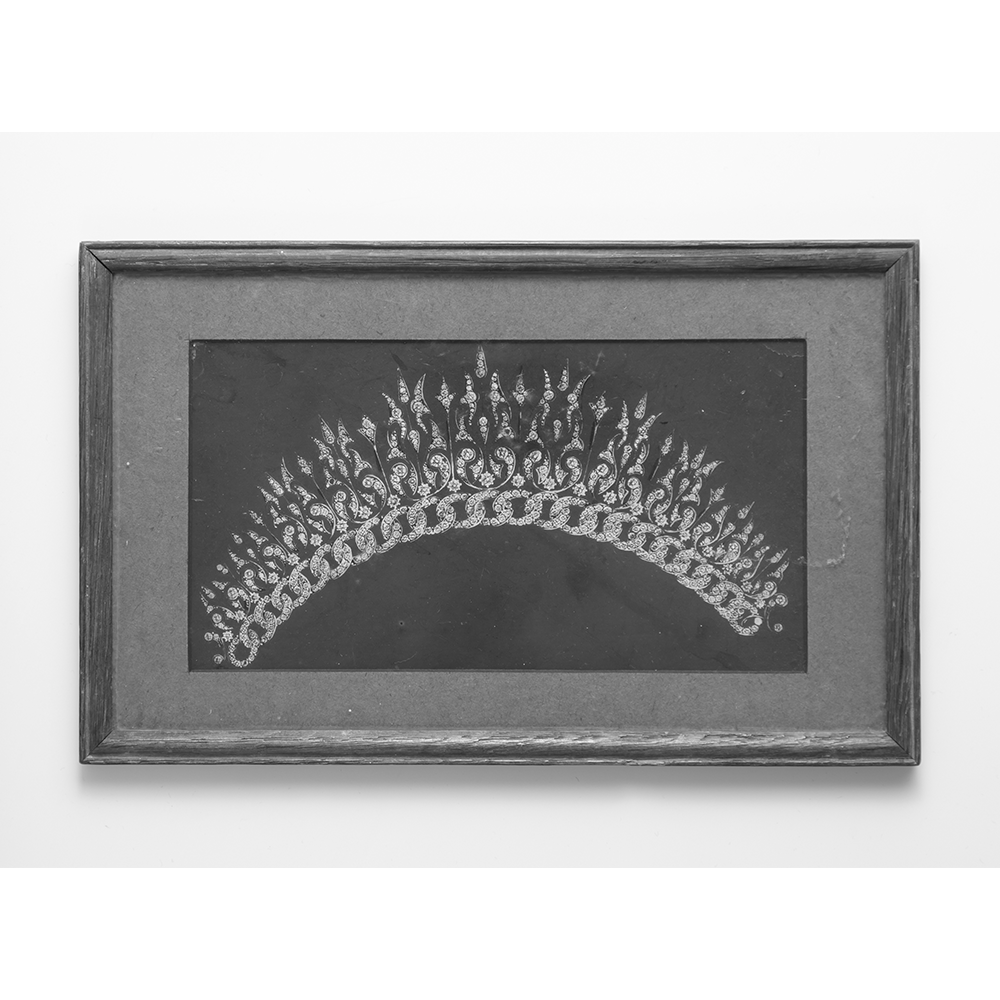 Tiara
Company founder, Wallace Bishop learns his trade in Birmingham in the 20th century. Born from a prominent British jewellery family who made pieces for the aristocracy and wealthy clients all over the globe, Wallace's talents were evident at an early age.
In 1897, he earned a 1st class pass with Honours, in London's City of Guilds Exam in goldsmiths work as well as a bronze medal and 2nd prize from the Goldsmith's company.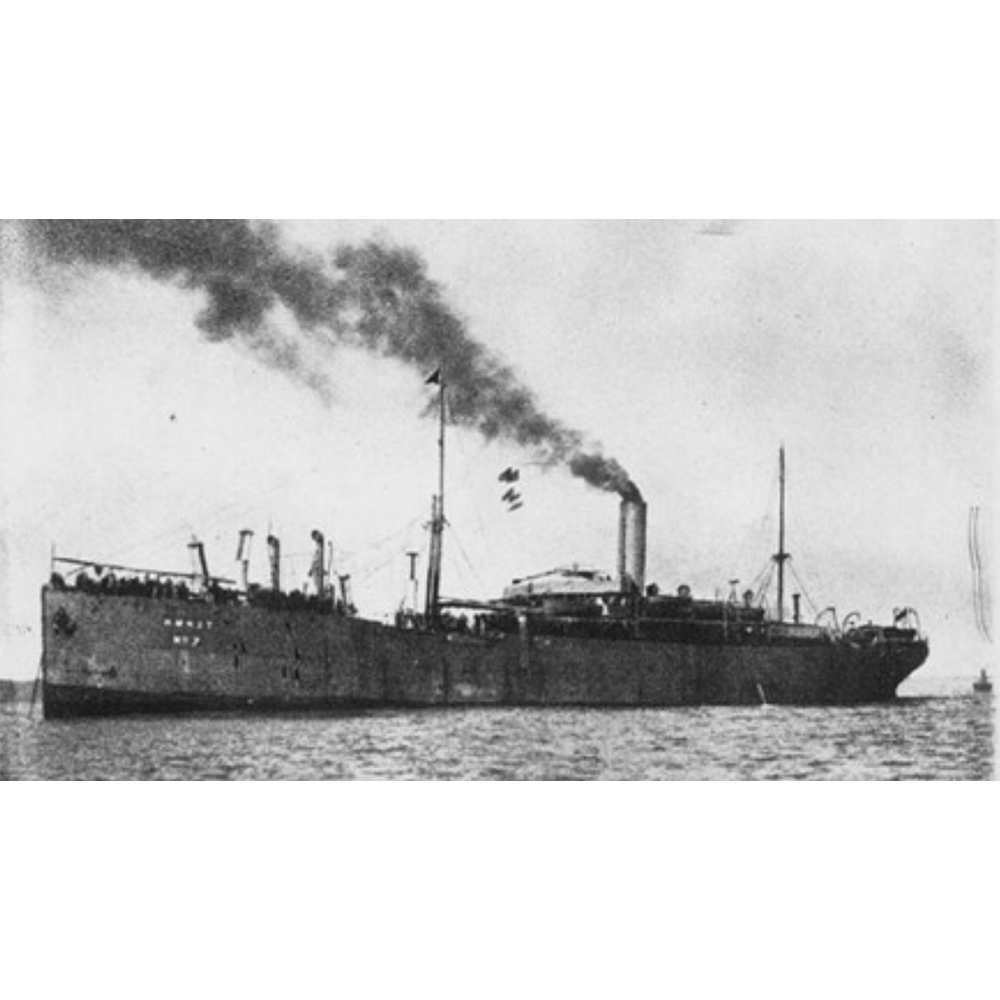 Rippingham Grange
Wallace and May Bishop and their two young children, Carl and Ethel, set saIL on the steamer, 'Rippingham Grange' to escape the cold English climate for the tropical weather of Queensland in 1909.
On arrival Wallace joins Brisbane company, Flavelle, Roberts and Sankey jewellers as a diamond ring maker.
*Rippingham Grange image courtesy of Flotilla Australia
The Wallace Bishop Company
Wallace, a jeweller and May, a jewellery with a special skill in gilding, with two employees start a jewellery manufacturing company located at 46 Elizabeth Street, creating rings, brooches, and badges using the latest methods from England. They introduced many new facets to the trade including vitreous enameling of jewellery and badges.
In 1919, Carl Bishop joins the family business to learn the trade. Constant growth results in moves to more suitable premises including a move to 125 Adelaide St, a retail shop with factory in the basement.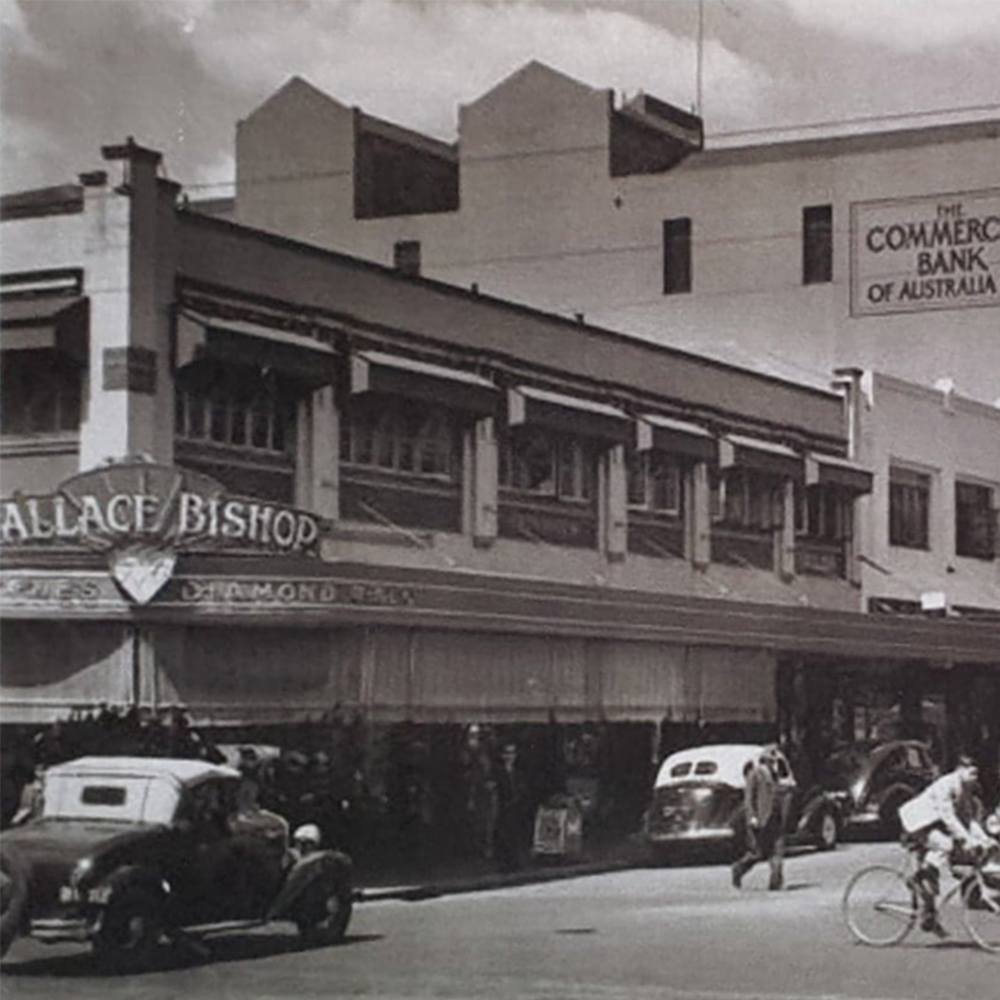 Wallace Bishop King George Square Store
Wallace Bishop opens their flagship, 'King George Square' retail store on the iconic location at the corner of Adelaide and Albert Streets, opposite King George Square.
This remained open for another 75 years along with new manufacturing and retail locations throughout Brisband and Queensland.
Engagement Ring
The diamond and emerald engagement ring Carl, experienced in the jewellery trade, designs and creates for his fiancee, Jess, who he marries in 1932.
The Loyal Watch
Carl applied his keen business management brain to growing the business. Part of his strategy was an innovative marketing campaign to launch the Wallace Bishop Loyal Watch range in 1934. Sourced from Swiss components it is a remarkable and affordable timepiece for ladies and gents who live in the tropics. A Loyal watch came with the 'Loyal Double Guarantee' covering construction defects and accidental mishaps and cleaning. Wallace Bishop would repair, service, fit new glass and mainspring as often as a person could drop it, and 'it wouldn't cost a penny'. Here is the current range of watches in store today. They are sold with Wallace Bishop confidence as a leading timepiece.
Wallace Bishop Arcade
The Wallace Bishop Arcade opens on the day World War II begins in 1939.
This houses the administration of the flourishing business upstairs, manufacturing downstairs and a suite of glamorous shops at street level.
The Bride's Book
Wallace Bishop publishes the first of a series of 'The Bride's Book', a guide to wedding etiquette, a useful guide to ensure a successful day and an innovative marketing too.
Silver Gift Box - Carl is presented with a sterling silver box for his services as President and life-long member of the Federated Retail Jewellers Association.
Bluebirds
Bluebirds of Happiness, were designed and manufactured, in sterling silver with a gorgeous blue enamel, in two sizes by the company. Wallace Bishop, a young man in the business, recalls that in the 50s the birds were made in batches of 4000 and sold throughout the jewellery trade in Australia. They were the perfect Christening or special gift for tens of thousands of girls across Australia and one of the company's most popular pieces.
Wallace Bishop Expands
Wallace Bishop joins the family business in the 1950 as an apprentice watchmaker. Wallace opens the 1st regional store in Toowoomba and commences a period of further growth.
The company manufacturing arm moves into a state of the art new premises in Fortitude Valley in 1963. The premises were officially opened by the Deputy Premier of Queensland and Minister of Industrial Development, Hon A.W. Munro MLA. This latest move is witnessed by Wallace Bishop Snr, Carl Bishop, Chairman of Directors, who gives the welcome and the younger Wallace Bishop, Director, gives the vote of thanks.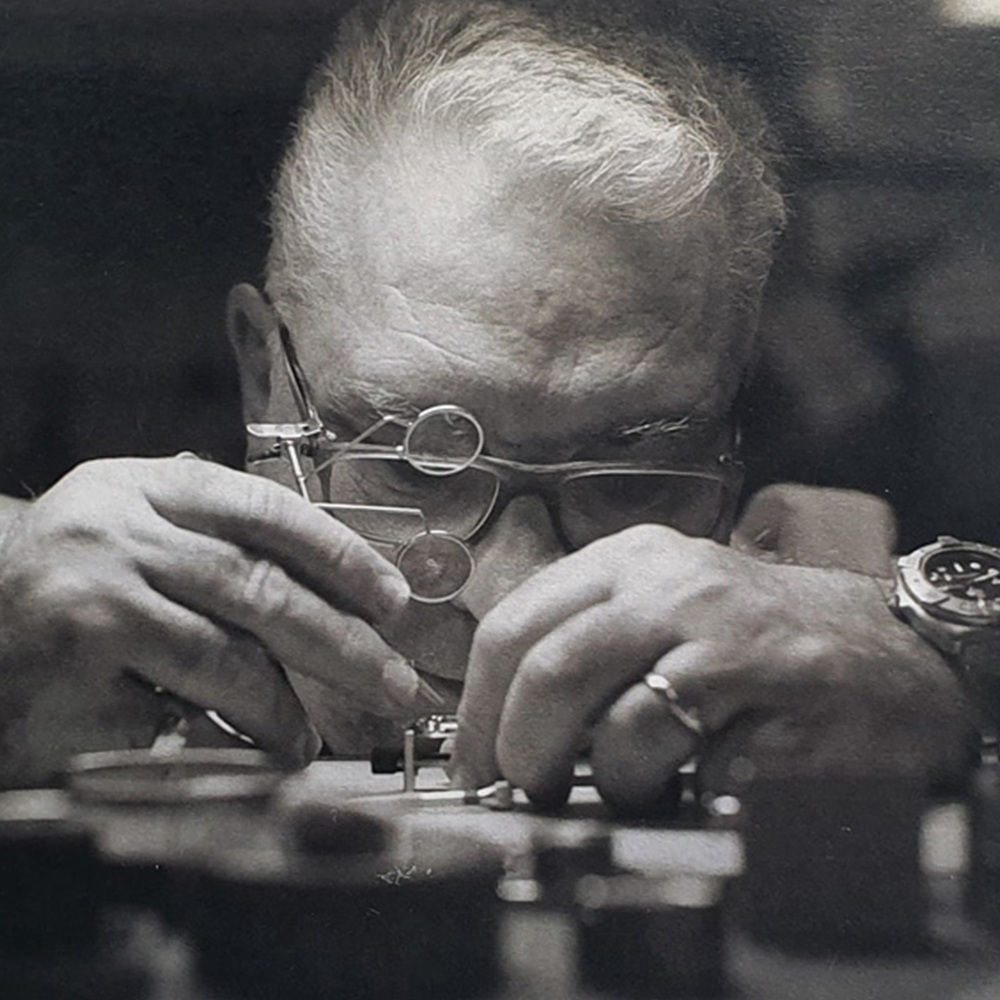 Craftmanship
Always an inventor and problem solver, Wallace develops and manufactures state of the art work benches to assist employees with their focused and precise work. He imports and makes new machinery to improve utility and efficiency.
By 1967 Wallace Bishop is the largest jewellery manufacturer in Queensland, employing more than 160 people across its retail and manufacturing arms.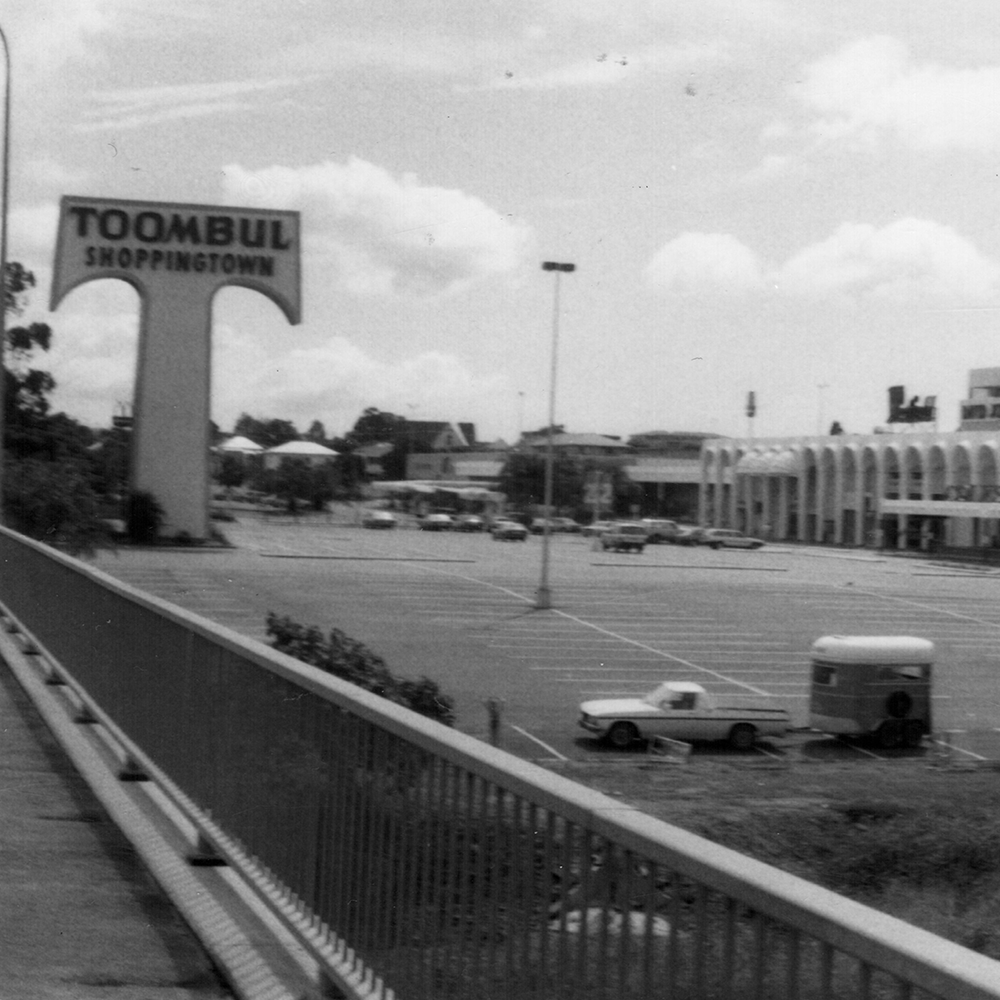 Toombul Shopping Centre
Wallace oversaw a dramatic change in shopping behaviour with the advent of the large shopping centre. Realising that this was the way of the future, Wallace Bishop shops take prime position in this retail phenomena.
Toombul was the first of many shops in all the major shopping centres in Queensland. By 2017, only one store is a freestanding entity.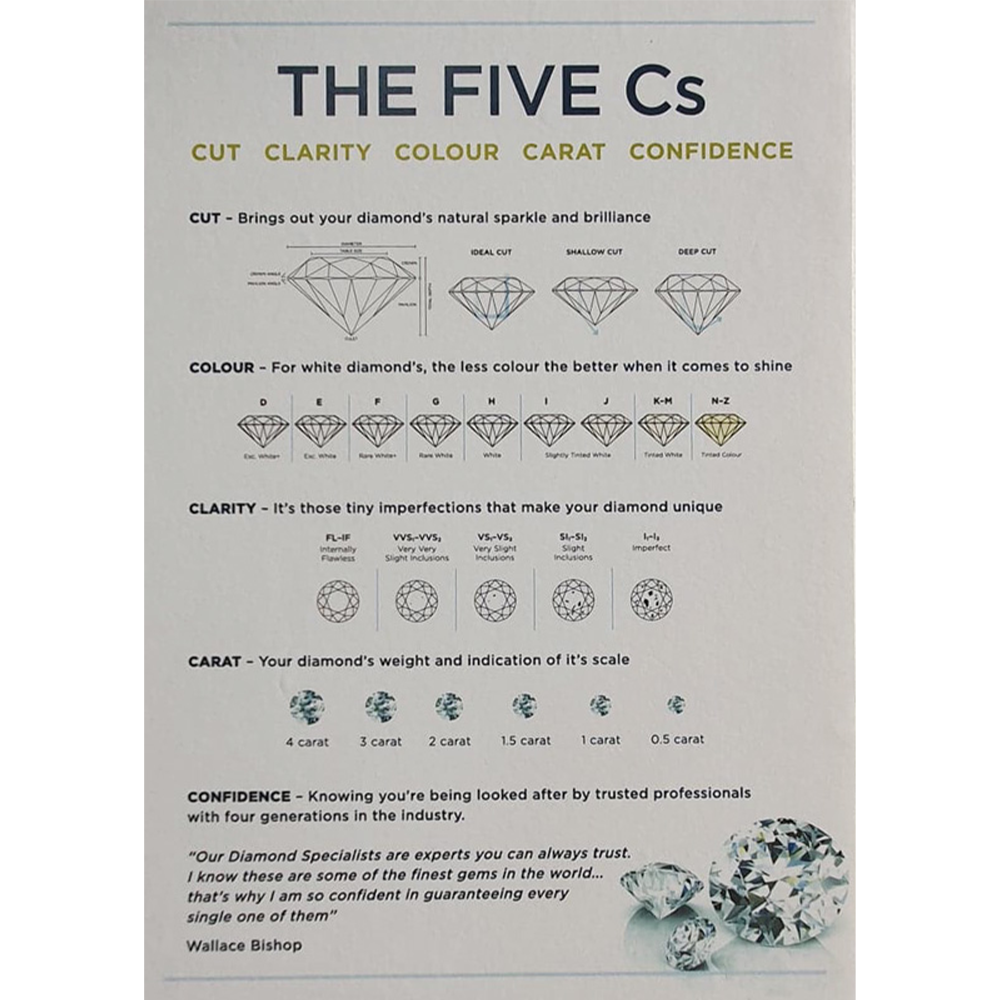 The 5 C's
Wallace Bishop completes all valuations and diamond buying himself during the 70's and 80's.
Wallace also creates the Five C's customer diamond buying practice based on the industry standard of the Four C's gem classification.
The Five C's is used by no other jeweller in the industry making it a unique trademark to the Wallace Bishop brand with the 5th C as the CONFIDENCE in knowing you're being looked after by trusted professionals with four generations in the industry.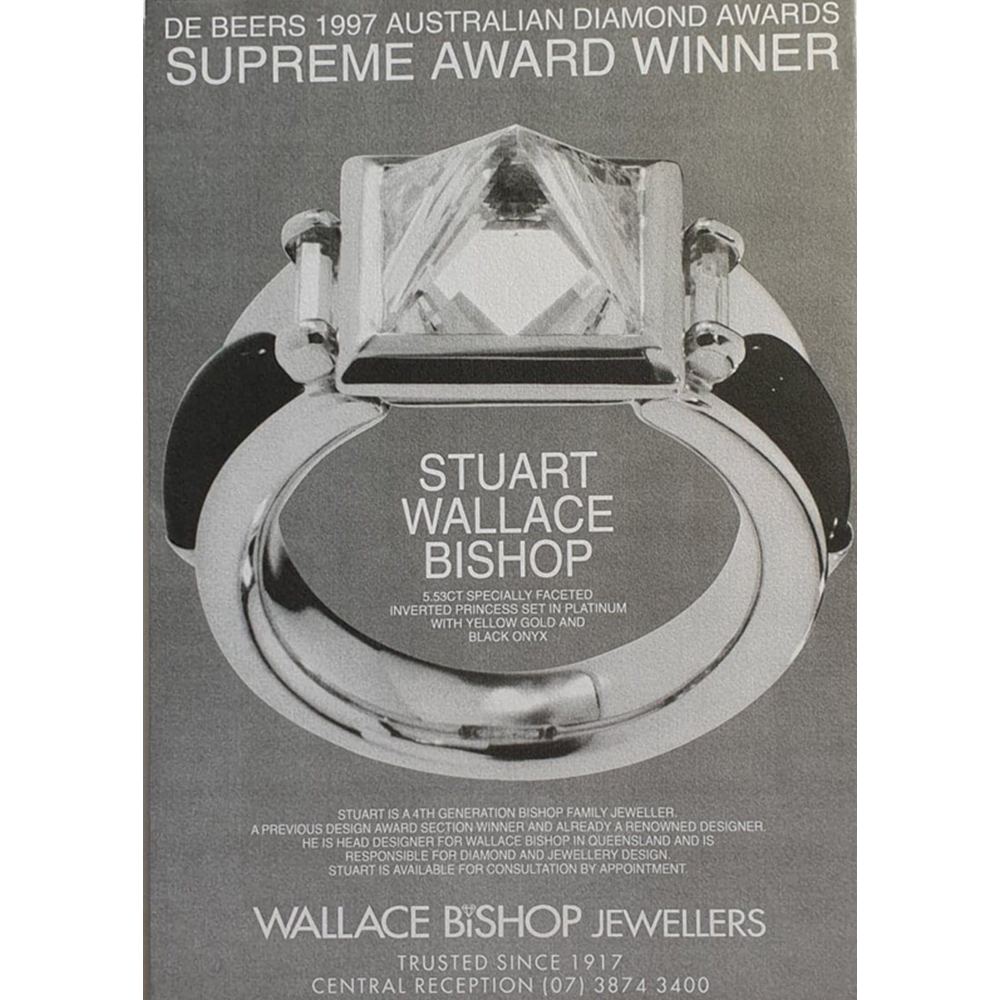 De Beers Supreme Award for Winning Design
Stuart Bishop joins the family business in 1985. He completes a Diploma in the Study of Diamonds and Diamond Grading at the Gemological Institute of America.
Stuart Bishop wins the prestigious 1997 De Beers Australian Diamond Facets Supreme Design Award for the 5.35 carat princess cut diamond inverted in platinum.
King George Square Store
After 75 years, the King George Square store closes and the last awning-mounted neon sign in Brisbane disappears. Wallace Bishop's flagship store moves to the thriving Queen Street Mall. Wallace has been instrumental in ensuring the success if the Mall through its establishmnt and continuing amenity. It is known internationally as one of the top ten most successful shopping Mall precincts.
2010's-2022
Wallace Bishop Today
Stuart Bishop commences as CEO. Stuart continues to be a leader in the gem industry with his design and gem skills including leading sporting event trophies and the current SWB 100 collection in stores today commemorating the family's industry role in the past, present and future.
As a proud Australian family-run business, Wallace Bishop now has over 50 stores and 500 employees and will continue to embrace and carry forward the century of legacy and traditions.
From our heritage to yours
Our generations